AWWGMENT INC. LAUNCHES THE APP TO ADD AR EXPERIENCE TO BUSINESS CARDS & FLYERS
Awwgment is a platform to design and power printed marketing collaterals to be interactive. It helps users to represent themselves and their business virtually, highlighting the key details via print media like business cards and flyers and provides insights like total number of views and by whom the card or the flyers have been viewed.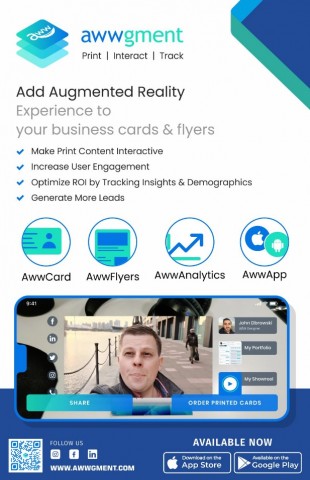 Awwgment is designed to enable users track their print campaign ROIs and optimize the marketing strategy. The app allows users to share an intro video along with portfolio & showreel video while creating their AwwCard. This not only fascinates customers or partners but engage them in knowing more about users and remember them.
The goal of designing the app was to boost the performance of print marketing campaigns by adding a digital flavor to it. Most business cards are discarded within a week of exchange and the flyers get lost under piles of paper, but with Awwgment app they can be digitally stored and viewed by the consumers whenever they wish to. The virtual content viewed through the printed cards enhances business's identity. The app allows user to create their own customized marketing collaterals on the go, share across all platforms, place orders for printing as required and track engagement with it.
Awwgment is one of a kind in the field and assures ease of use and comprehensiveness to its users and provide experience of the future.
The Awwgment co-founder Vikas Batra quoted that "I see a number of individuals & businesses spend a lot on print campaigns but never really try to track ROI on the spend. Looking at the competition in the market and ever innovating technology, we wanted to use Augmented Reality as a fuel to boost print marketing campaigns and help them achieve better ROIs."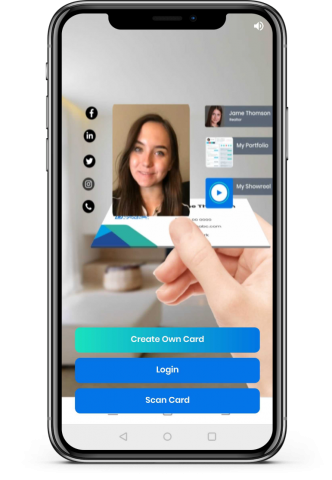 The feature that will drive the market for Awwgment App is its ability to allow the users to create own designed business card and share across desired platforms/channels. It gives users the full control over the design and linking of the marketing content including portfolio & intro video. The app provides a user-friendly interface to experience cards in Augment Reality.
Awwgment app also provides cost-effective printing and delivery services which are accessible from within the app. It is also possible to track your ROI with Awwgment's Analytics system that keeps you updated with real-time information about who's viewing your profile, the total number of scans along with other insights and demographics.
Awwgment App offers a platform that creates possibilities for combining digital & print marketing providing the ideal environment with an innovative feature to stay ahead in a very competitive market by taking full advantage of modern technology.
Awwgment mobile application is available for both Android and iOS in the respective stores. The app, is set to launch by Oct.10th 2019 at the Real Estate Wealth Expo which features Tony Robbins, Sylvester Stallone, etc.
For more information please visit: www.awwgment.com
Media Contact
Company Name: Awwgment Inc.
Contact Person: Vikas Batra
Email: Send Email
Phone: +1 720 532 4717
Address:676 Fernleaf Dr.
City: Milipitas
State: CA 90535
Country: United States
Website: www.awwgment.com