Puroberg, A Better Designed World's First Pure Wooden High-tech Powerbank for the Fashion-Conscious
The world's First Pure Wooden Powerbank can be best described as a meticulously designed power bank with a modern twist. PuroBerg Lightning 10000 features quick charge 3.0 with Max 18W input and output.
PuroBerg Lightning 10000 recently launched on Kickstarter introducing an elegant, compact pure wooden customizable Powerbank. Created with great precision, Puroberg brings innovative charging as an attractive accessory that is simple to use and classy to carry.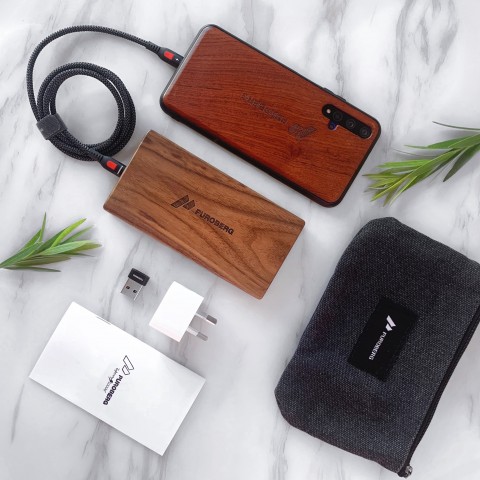 Millions of mobile device users need anytime-access to dependable power to keep those devices up and running. Having extra battery at your disposal is nice but it shouldn't feel like carrying around a brick or something weird in your bag. This is why a New-Zealand-based product design company that is inspired by Nature with a mission to create functional and beautifully designed wooden accessories built with high-quality and sustainably obtained wood decided to create Puroberg Lightning 10000.
PuroBerg Lightning 10000 features Quick Charge 3.0 INOV (Intelligent Negotiation for Optimum Voltage), which allows for a fined tuned power output and a more optimized charging cycle. This builds communication between the powerbank and your device to balance the required volts and amps. This means that your device or the powerbank won't heat-up and it won't feel like holding a fiery brick in your hand after charging it for 29 minutes.
Another premium feature is that it comes with USB Type-A, USB Type-C and Micro USB ports that ensure that it can charge all your devices. This is the only powerbank that is made out of a single slab of walnut wood without joints, metal frames and screws. To cap it all, you can engrave your name or logo on it.
PuroBerg Lightning 10000 is now available through the Kickstarter campaign for as low as NZD69. The company is seeking to raise enough money for the mass production of the unique product through the crowdfunding platform. The funds will go towards the first production run of the product, with delivery as soon as possible.
There are great rewards, from 'Single Super Early Bird' where you can receive one of the first PuroBerg Lightning 10000, to the 'Trio Kickstarter offer' where you get 3 PuroBerg Lightning 10000 with custom engravings. Visit the Kickstarter campaign page and be part of the journey of the creation of aesthetically pleasing high-performing tech accessories that are in harmony with Nature.
For more information, please visit www.puroberg.com
About PUROBERG
PUROBERG specializes in crafting stunning wooden products and unique personal items that match convenience with elegance and originality. They also give customers the opportunity of personalizing their PUROBERG items to make them even more unique.
Media Contact
Company Name: Puroberg Limited
Contact Person: Desmond Chai
Email: Send Email
Phone: +86 21 187 7075
Address:22 Bond Crescent
City: Forrest Hill
State: Auckland 0620
Country: New Zealand
Website: www.puroberg.com