What is the common thing to know about best military bags?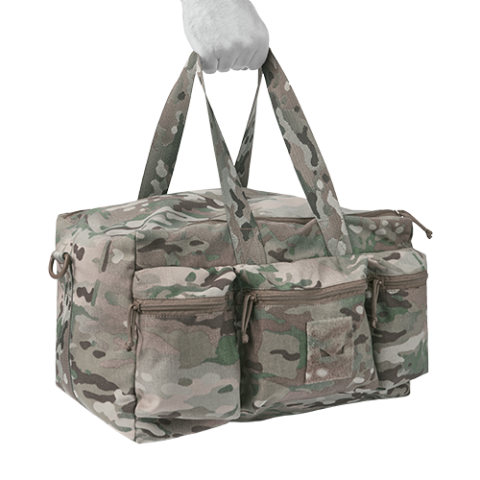 Even the military often has issues when trying to find the best military bags for their needs, so it is not strange that small security companies and individuals have the same problem.
The bag needs to fit with the person that will carry it, their vehicle or a number of different vehicles, and finally the gear that will be inside. And, setting up all three to work without a glitch is not an easy task.
Generally, there are four aspects that you should think about when choosing military bags:
Purpose
Volume Capacity
Extra Features
Durability
Additionally, don't forget that these needs change depending on the number of people in your unit, and especially the location you will be in.
While you can't always know the specific mission you will be tasked with, you will often have a general idea because of your skills and previous experience. Most private security teams operate in only a single locale, even when it is for multiple clients.
And, while you might want to carry everything you have 'just in case', that won't always be viable. If there is rough terrain that you can't traverse with a vehicle, you will need something that you can easily carry on foot.
Thankfully, there are good options that don't require a lot of downsizing. But, you must always remember that the contents come first and the bag needs to adapt.
Size Matters
Most experts will advise you to go with as little gear as necessary, which may be true when you are an individual but the rules change even for a fire team, let alone the unit.
Specialization allows us for everyone to carry different things, which might leave a single person as the designated carrier, with others serving as their security detail. This way, when using something like the HRB™ Huge Resource Bag from UARM, you will move faster and have the majority of your unit ready and able to act in an instant.
Then, when you reach your desired point, that single person can rest and recover, while others will still be relatively fresh to secure the perimeter and prepare all of the gear for the next task.
Optimized Weight and Portability
Even when you are using a vehicle you need to calculate for weight, let alone when it is a single person carrying dozens of pounds on their back. A fit US marine is meant to be able to carry 180lbs over nine miles, and most soldiers never reach the level of fitness where that is possible.
And, how that weight is carried is even more important. While you can carry a 30lbs bag over your shoulder or in hand, when that number jumps to 100lbs it becomes impossible. You need a way to carry it on your back, focusing the weight predominantly on your legs.
Only when the weight is well balanced and placed as near above your center of mass as possible may you be ready to carry anything anywhere. Otherwise, especially when using civilian bags, you might get seriously hurt before ever seeing an enemy.
Media Contact
Company Name: Linksoutreach
Contact Person: Media Relations
Email: Send Email
Phone: +923216314165
Country: Pakistan
Website: linksoutreach.com