Dr. Jun-seong Park of the Republic of Korea Has Succeeded in Researching and Developing ReLEX SMILE with Minimal Corneal Damage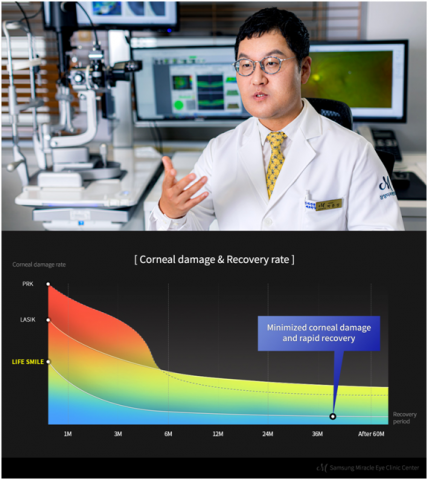 Dr. Jun-seong Park of Samsung Miracle Eye Clinic in the Republic of Korea has succeeded in researching and developing ReLEX SMILE, a procedure that results in minimal corneal damage. This procedure is based on data gathered from 10,000 first-round patients who have undergone LASIK and LASEK surgery and has recently become a very big topic. Corneal damage is inevitable during vision correction surgery as the procedure is performed by cutting the cornea. The problem is that if excessive corneal cutting, such as high myopia, is performed, the probability of various side effects such as dry eye syndrome and light bleeding increases after surgery.
Dr. Jun-seong Park wanted to develop a lifelong vision correction surgery that would have minimal side effects. Dr. Park spent seven years gathering, studying, and analyzing data from 10,000 first-round LASIK and LASEK patients who had undergone vision correction surgery ten years prior to the study. The study showed that most of the side effects were caused by damage to the cornea that could not be recovered after having surgery. Life Smile was successfully created by using different surgical methods. The procedure removes only corneal stroma using a femtosecond laser, the strength of which is significantly lower than 1/1,000 times the laser intensity used for conventional LASIK and LASEK. Life Smile only needs to make a 2mm minimal corneal incision for lenticular separation. As a result, the damage to the nerve tissue of the corneal epithelium is minimized, resulting in a reduction of the dry eyes side effect that now only occurred in 10 out of 100 patients. The laser irradiation area was reduced by more than 40% compared to LASIK and LASEK, while the amount of corneal cutting was reduced by up to 60% compared to conventional LASIK surgery.
Dr. Jun-seong Park, Director of the Samsung Miracle Eye Clinic, who succeeded in minimizing corneal damage during vision correction surgery, said: "Life Smile minimizes corneal damage and helps patients recover more than three times faster from surgery. The day after surgery, patients can get back to daily life routines such as washing and exercising. It is expected that Life Smile will provide a new direction for lifelong vision correction surgery as it can minimize the risk of long-term side effects such as dry eye syndrome and light bleeding."
Media Contact
Company Name: Samsung Miracle Eye Clinic
Contact Person: Media Relations
Email: Send Email
Phone: 02-6235-0865
Country: South Korea
Website: http://www.samsungmiracle.co.kr