Intelligent Transportation System Market worth $33.6 billion by 2025 growing with a CAGR of 5.34%
Intelligent Transportation Systems Market by Offering, Systems (Advanced Traffic Management System, Advanced Traveler Information System, ITS-Enabled Transportation Pricing System), Application, and Geography – ITS Market Global Forecast to 2023
The intelligent transportation systems market size in roadways is expected to be worth USD 23.3 billion in 2018 and USD 30.7 billion by 2023, growing at a CAGR of 5.65% between 2018 and 2023. The factors such as increasing concerns related to public safety, growing traffic congestion problem, and increasing favorable initiatives taken by the government for effective traffic management have proved to be the major driving forces for ITS market in roadways. Even though development of smart cities across the world is driving the ITS market in roadways, it is facing challenges in achieving interoperable and standard ITS architecture.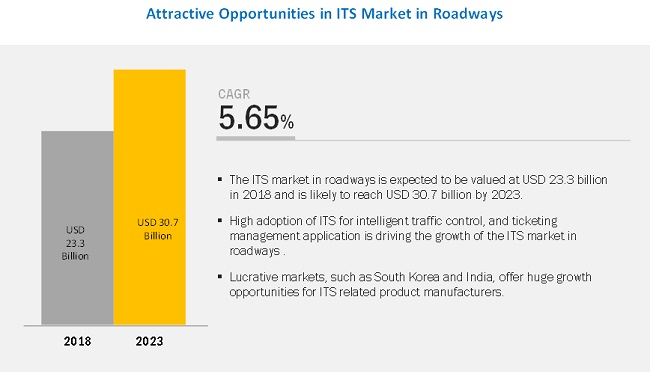 Intelligent transportation system (ITS) is a combination of information and communication technologies applied in transportation networks and infrastructure to facilitate vehicle-to-vehicle, vehicle-to-infrastructure communication and transfer of information; this helps in enhancing safety, traffic management, and environmental performance of roadways, railways, aviation, and maritime. The navigation and communication technologies, which are typically used in the ITS, are global positioning system (GPS), dedicated short-range communication (DSRC), and carrier access for land mobiles (CALM). Location tracking, traffic management, and collision avoidance are a few key application areas of an ITS.
The market for surveillance cameras in the roadway transportation mode is estimated to grow at the highest CAGR between 2018 and 2023. The advent of new technology has facilitated all activities related to the intelligent transportation system, such as monitoring traffic flow, collecting toll, and identifying violations. Surveillance cameras allow operators to detect and verify instances based on real-time monitoring and evaluating with the help of different modes such as sensors. These cameras also provide information on traffic conditions based on gathered information.
Download PDF Brochure @
https://www.marketsandmarkets.com/pdfdownloadNew.asp?id=764
The ITS market in roadways for commercial vehicle operation (CVO) systems is expected to grow at the highest rate during the forecast period. This is because the system deals not only with the moving freight and passengers in commercial vehicles but also with the activities necessary to regulate these operations as well as activities related to safety assurance, commercial vehicle credentials, and tax administration.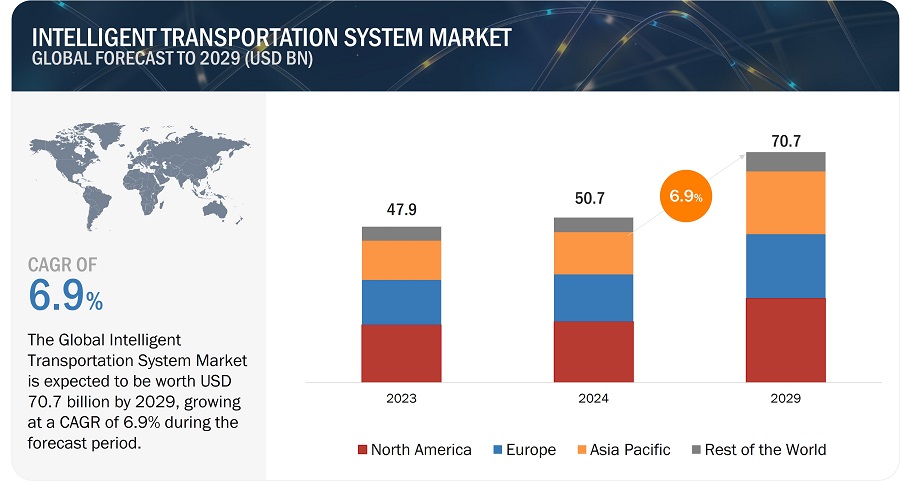 The market for the emergency vehicle notification application is expected to register the highest growth rate during the forecast period. Emergency vehicle notification is a method for notifying traffic of an approaching emergency. A series of alert units are mounted along a roadway so as to be visible to traffic. A signal is emitted from the emergency vehicle, which is detected by a receiver along the roadway. The receiver causes a light to flash, and a relay signal is sent to the next alert unit along the roadway. Accordingly, an alert signal is propagated along the roadway ahead of the emergency vehicle, alerting traffic. The highest CAGR of emergency vehicle notification application is attributed to its seamless capability of notifying the traffic in case of emergency.
Scope of the Report:
| | |
| --- | --- |
| Report Metric | Details |
| Report Name | Intelligent Transportation Systems Market | ITS Market |
| Base year | 2017 |
| Forecast period | 2018–2023 |
| Forecast units | Value in terms of USD million and billion |
| Segments covered | by Offering, ITS System, Application, and Geography |
| Geographic regions covered | North America, APAC, Europe, and RoW |
| Companies covered | Thales (France), Siemens (Germany), Garmin (Switzerland), Kapsch TrafficCom (Austria), TomTom International (Netherlands), Cubic (US), Q-Free (Norway), EFKON (Austria), FLIR Systems (US), and Denso (Japan). Thales (France) |
APAC is expected to grow at the highest CAGR during the forecast period. The ITS market in roadways in APAC is growing rapidly because of the demand in countries such as China, Japan, Australia, and the Rest of APAC. Various countries in APAC, such as Japan, China, and Australia, have started recognizing ITS as a solution to curb issues such as traffic congestion, air pollution, and greenhouse gas emissions. The market in APAC has high growth potential. The demand for ITS in APAC is significantly driven by the strong economic growth, rise in population, and rapid urbanization. Formulating standards is a challenge as it requires vast knowledge of technical aspects, coordination among stakeholders, and a vision to attain different objectives by such standards. Implementation of international standardization process such as ISO also helps countries build national standards in an effective and fair manner.
Media Contact
Company Name: MarketsandMarkets
Contact Person: Mr. Shelly Singh
Email: Send Email
Phone: 1-888-600-6441
Address:630 Dundee Road Suite 430
City: Northbrook
State: IL
Country: United States
Website: https://www.marketsandmarkets.com/Market-Reports/commercial-p2p-cdn-market-187880203.html