Organic Acids Market Analysis, Growth, Share, Trends, and Forecast – 2022
Asia-Pacific accounted for the largest market share for organic acid in 2016, owing to the increase in demand for organic acid in countries such as China and India. Asia-Pacific is projected to be the fastest-growing market during the forecast period, due to the increased awareness related to the health benefits of organic acid.
The report "Organic Acids Market by Type (Acetic Acid, Citric Acid, Formic Acid, Lactic Acid, Propionic Acid, Ascorbic Acid, Gluconic Acid, Fumaric Acid), Application (Food & Beverages, Feed, Pharmaceuticals, and Industrial), and Region – Global Forecast to 2022″, The organic acids market is projected to reach a value of USD 11.39 Billion by 2022, at a CAGR of 5.48% from 2017 to 2022. The market is driven by factors such as the use of organic acids in various applications and wide functionalities of organic acids range from their use as a preservative, acidity regulator, antioxidant, flavor enhancer, coating, and in the production of biopolymers.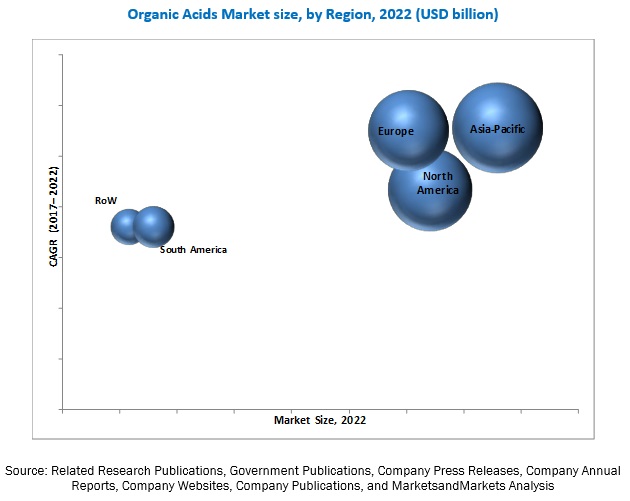 Download PDF Brochure: https://www.marketsandmarkets.com/pdfdownloadNew.asp?id=30190158
Growth in demand for convenience food
Organic acids are generally weak acids, with a pH largely ranging between 3 and 4. Few organic acids such as fumaric, malic, succinic, tartaric, citric, and vinegar are used significantly in packaged food applications, because of their antioxidant properties, preservation, acidity regulation, flavor enhancement, and many others. The U.S. is a major exporter of food, cosmetics, and pharmaceutical products, especially to developing and less developed economies. With increased consumer demand regarding the usage of organic acids in food, more of these acids are likely to become a part of the value chain of marketed final products. In 2015, an international survey for the food industry conducted by IFIC (U.S.) estimated that about 35% of the American population consumed at least three prepared convenience food products in a week, and that this trend will increase to about 40% of the population in the future. The expenditure of the American population on home-prepared meal ingredients decreased from roughly 70% of the total expenditure in the 1960s to 53% in the 2000s, with increasing expenditure on convenience foods.
According to a survey conducted by Associated Chambers of Commerce and Industry of India (ASSOCHAM), due to the steep rise in the prices of vegetables, people are turning to "quick-fix solutions" by purchasing processed ginger-garlic pastes, tomato purees, and ketchup. The sales of these products had risen to 20%–25% in November 2015, which in turn has become a driving force for food organic acids. India is a large consumer and producer of food & beverage products and has a growing demand for pharmaceuticals. The large population of the country, in addition to its increasing per capita income, has caused high demand for food ingredients and additives. Hence, demand trends in India directly affects the global market, and India witnesses high demand for organic acids.
Raw material price & availability and infrastructural & technological barriers
The price and availability of raw materials are the key elements that influence the production cost of organic acids. The prices of organic acids have been volatile over the past few years. A significant rise in prices for commodities (raw materials used for lactic acid production) has been recorded from 2010, especially for corn, tapioca, and wheat. The lactic acid market is expected to be influenced by the prices of commodities in the near future. Production costs increase significantly due to higher costs of raw materials, transport, energy, and chemicals, which leads to increase in prices; these in turn impact the margins for manufacturers. For instance, Corbion N.V. (Netherlands), a key market player, increased its prices worldwide for product categories that include lactic acid and lactates from 2010, owing to an increase in the costs of raw materials.
Further, the factors such as decline in value of the Euro, along with rapid increase and sustained volatility in raw material prices have led to an increase in the cost of imports. In order to combat the increased import costs, the suppliers of organic acids in the European region have increased their prices in the last few years. For instance, BASF SE has increased the prices of propionic acid and formic acid in North America. On the other hand, Celanese Corporation (U.S.) has increased the prices of acetic acid in Europe and Latin America in 2017. In addition, ingredients offering similar functionalities are facing fierce competition due to raw material availability, cost efficiency, and technological advancements susceptible to seasonal changes and supply chain management.
Speak to Analyst: https://www.marketsandmarkets.com/speaktoanalystNew.asp?id=30190158
Asia-Pacific dominated the organic acids market in 2016
The Asia-Pacific region was the largest market for organic acids in 2016. This can be attributed to the increase in demand for various organic acid fortified products in the Asian region. Consumer awareness related to natural organic acid consumption in this region is increasing and can be attributed for its largest market share for this market. Many big players have established their production plants in this region.
This report includes a study of marketing and development strategies, along with the product portfolios of the leading companies. It includes profiles of leading companies such as Cargill (U.S.), BASF SE (Germany), Dow Chemical Company (U.S.), Henan Jindan Lactic Acid Technology Co. Ltd (China), Archer Daniels Midland Company (U.S.), Eastman Chemical Company (U.S.), Corbion (Netherlands), Myriant Corporation (U.S.), Polynt-Reichhold (Italy), Tate & Lyle (U.K.), Koninklijke DSM N.V. (Netherlands), and E.I. Du Pont De Nemours & Company (U.S.).
Media Contact
Company Name: MarketsandMarkets
Contact Person: Mr. Shelly Singh
Email: Send Email
Phone: 1-888-600-6441
Address:630 Dundee Road Suite 430
City: Northbrook
State: IL
Country: United States
Website: https://www.marketsandmarkets.com/Market-Reports/organic-acid-market-30190158.html