Gerald Smith Jr. Releases a new Book titled: Framing your World – Against All Odds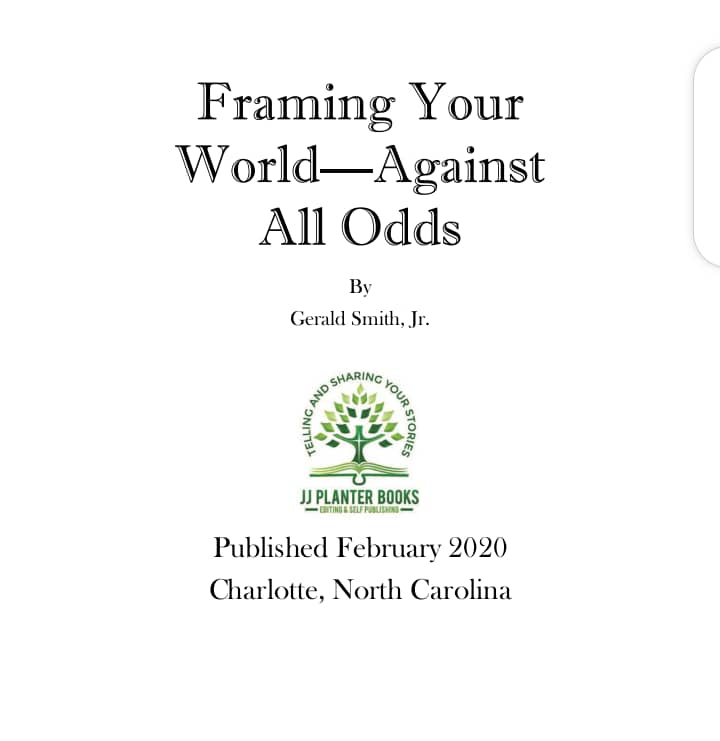 May 27, 2020 – Elder Gerald Smith Jr. a life coach, consultant, and founder of Sound Mind Coaching and Consulting LLC proudly announces the release of a new book titled; Framing your mind against all odds. It's a book dedicated to exploring the concepts of faith and the word of God, believing and applying the word of God to what's applicable in Christian living of the world today
Framing your world against all odds is a book written with a specific set of people in mind, those who are ready to take charge of their environment, and those who are ready to stop the environment from dictating what they'll become and how successful they should become in later years. It reveals the unspoken words in the scripture, balancing the word of faith and practical application of the word irrespective of one's daily experience.
Coming from a reader of the book, Daevon Roberts, "I'm really excited to read this product that Elder Gerald Smith has wrote. In the time I've known him; I've noticed that God has given him such wisdom and knowledge beyond his years. I believe with this book God has given him the tools to help everyone who comes in contact with this book, the ability to FRAME THEIR WORLD!"
Framing your world – Against all odds brings out the reality of God's expectation for those who decided to follow him and be his children. It probes deeper, of what we are missing behind when as a believer one does not plug into the ultimate God's solution of faith and his words.
If only we can say the word, confess the word, live the word, and let the word be our guide as instructed in the book of Joshua 1:8. The book, framing your world against all odds reveals what one can do by decreeing God's word to fulfill one's destiny and bring alive those dormant abilities.
About the Author
Elder Gerald Smith is a board-certified life coach and consultant, the founder of the Online GSJ ministries, and founder of the Sound Mind Coaching and Consulting LLC. He heeded the call to serve the lord over seventeen years ago, he was also privileged to serve as a counselor for Christian Broadcasting Network in Virginia Beach, Virginia, where he was able to counsel, encourage and enrich the lives of people who came in touch with his ministry, from all walks of life.
For more information about Reframing your world against all odds, and how to get a copy? Visit https://www.amazon.com/Framing-Your-World-Against-All-Odds/dp/1732969167
Media Contact
Company Name: Sound Mind Coaching and Consulting LLC
Contact Person: Gerald Smith Jr.
Email: Send Email
Phone: 704 918 5623
Country: United States
Website: https://eldergsj.com/