Radio & TV & Entertainment AM/FM Podcast Show Interviews Hollywood Actress And Bestselling Author Tonya Pinkins
Meet Writer, Director, Producer, Filmmaker, Actor of Redpill movie 2020 Tonya Pinkins to be hosted by Yolanda Nollie, Dr. Chastity Singletary, and Jesse Lewis IV
Yolanda Nollie Owner/CEO of Radio Ent. and TV podcast for AM/FM will be interviewing special guest Producer, Actress and award-winning author of Red Pill Tanya Pinkins. Born May 30, 1962, Tonya Pinkins has shown her prowess as an entertainer over the years, with the American actress and filmmaker growing to become a fans' favorite thanks to her excellent interpretation of roles in movies. Co-hosts Talented actor Jesse Lewis IV and Producer, Writer Dr. Chastity Singletary, will join Yolanda Nollie. PhD in Metaphysics. The trio will deep dive into interesting aspects of Ms. Pinkins Professional and Personal life and giving the audience an exciting journey to tune into! This is a podcast you don't want to miss; tune in July 29th, 2022 at 9:30pm EST.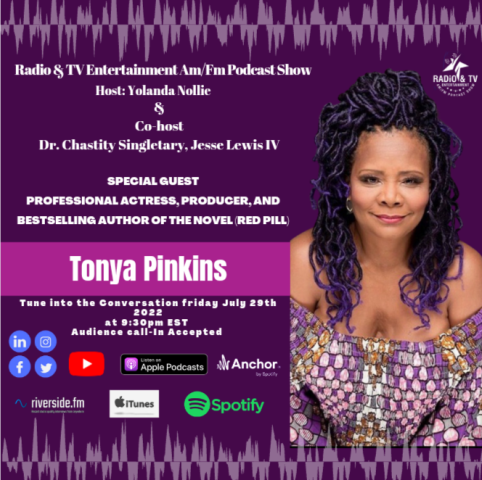 Tony Award winner, Tonya Pinkins debut feature film RED PILL, which was shot in 2019, yet foreshadowed the January 6, 2020 insurrection and much of what is happening politically in the United States today. RED PILL a one night only screening at The Aperture Cinema in Winston Salem, North Carolina. Tonya will be in attendance for the screening and tickets are $15 for the 10:00pm screening. She is also in Winston -Salem as a celebrity guest for the bi-annual National Black Theater Festival ncblackrep.org. RED PILL has won over 20 international awards including The Reel Sisters of The Diaspora, Micheaux, Hamilton Black, Anatomy of Horror, Charleston Black film Festival, Mykonos and many others. There will also be a reading of her play JEFFREY MANOR starring Lisa Arrindell, Dawnn Lewis, Starletta Dupois on Tuesday August 2nd at 1:00 in the Hearn Room A 425 Cherry Street in the Bethabara Room on the second floor. Admission to the reading is free.
Tonya is a Tony award-winning veteran of nine Broadway shows. She most recently portrayed Emmett Till's grandmother, Alma in Women of the Movement ABC/HULU. Fans also remember her from All My Children, As The World Turns, Scandal, Madam Secretary, Gotham and Fear The Walking Dead For further information about the podcast and to listen and call into the show, visit- https://lnkd.in/eCtTizq9.
Media Contact
Company Name: Radio & TV Entertainment AM/FM Podcast
Contact Person: Lisa Rodrigo, Publicist for Tonya Pinkins
Email: Send Email
Country: United States
Website: https://www.linkedin.com/in/yolanda-nollie-0989b013a/