The new issue of Totalprestige Magazine has been released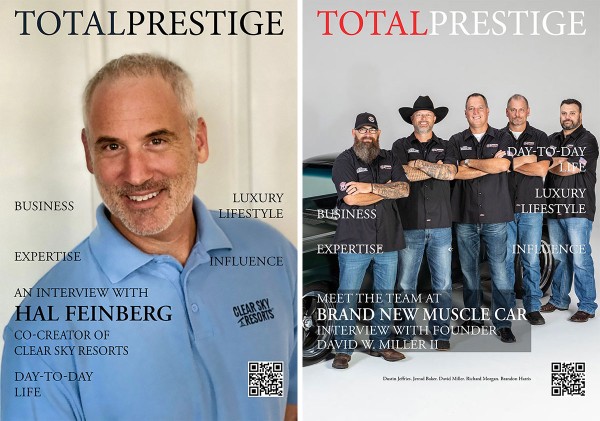 Miami, United States – The front cover of Totalprestige Magazine, a print and digital magazine designed especially for business people, features Hal Feinberg, co-creator of Clear Sky Resorts. Whether you're hoping for a trip packed with thrilling activities or a place to relax and rejuvenate, the outdoor activities provided by Clear Sky Resorts are unlike anything else you'll ever do near the Grand Canyon. The iconic Sky Domes will help you take a break from your regular routine and allow you to treat yourself to a vacation that is anything from ordinary with experiences that encompass some of the best stargazing in the world, breathtaking sunrises and sunsets, panoramic vistas of mountain ranges set against a high desert backdrop.
Previous cover of Totalprestige Magazine features David W. Miller II and team. David is the Founder of Brand New Muscle Car (BNMC) and is in the business for decades. In a recent interview, he described how he got into the classic auto restoration hobby. Once a hobby later became a large business with an incredible team. He said that he was influenced by his father who was a lifelong mechanic and car nut. It was interesting to hear how he made his company and created the logo, name, domain name, website, marketing, etc. nonstop from that moment on.
To read all of the above, and much more, please visit Totalprestige Magazine
About Totalprestige Magazine
Totalprestige Magazine is the official magazine of Totalprestige℠. The Totalprestige Magazine website was launched in 2006 to be a platform for its members upon which they could get to know and become familiar with one another. As the official magazine of Totalprestige℠, Totalprestige Magazine is a subscriber-based magazine that mainly features members and their related businesses. The print version of the magazine was first published in May 2010.
Media Contact
Company Name: RMP Media Group LLC
Contact Person: Marc Ziegler
Email: Send Email
Address:66 W. Flagler St. 9th Floor #4414
City: Miami
State: FL 33130
Country: United States
Website: https://www.totalprestigemagazine.com