1SecondCopy Launches Groundbreaking AI-Driven Web Application
By automating content research and curation, 1SecondCopy empowers companies to create better content, faster.
1SecondCopy, heralded as one of the fastest-growing content-as-a-service (CaaS) platforms, today announced the launch of its next generation AI-driven web application. The app is designed to help companies research, curate, and publish content more efficiently and effectively, and their clients routinely describe speedups of 5x or more when compared to traditional content marketing processes.
"We believe that the future of content marketing lies in artificial intelligence, and we're thrilled to be at the forefront of this exciting new industry," said CEO and co-founder, Noah Edis. "With 1SecondCopy, companies can now create better content faster and more efficiently than ever before – ultimately leading to better engagement with their customers and prospects."
Using a simple web dashboard, clients add a few details – like the content title, links, and formatting instructions – and AI intelligently fills in the rest. Then, a professional editor goes over the end product before delivering, ensuring client orders are written to-spec and with minimal revisions required.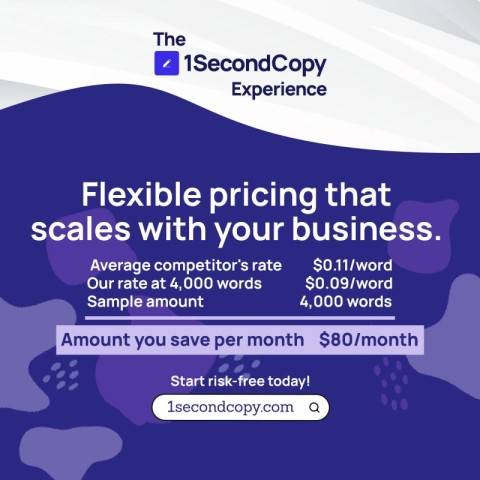 SEO tools: a thing of the past?
Historically, content marketing campaigns involved myriad tools and software platforms in order to be successful. From keyword-research services like Ahrefs, to Google Sheets for project management, to Hootsuite for social media distribution – the list goes on. But with 1SecondCopy's all-in-one platform, those days are behind us.
"1SecondCopy is the first and only tool you need to succeed at content marketing," said Edis. "By automating the research and curation process, we free up marketers to focus on what they do best: big picture thinking."
The top 1% of writers, at your fingertips
In addition to content research and curation, 1SecondCopy also offers a managed service for companies who want to outsource their content marketing efforts. Through its network of over 1,000 pre-vetted writers, 1SecondCopy can connect companies with the talent they need to produce high-quality content on a consistent basis.
"We believe that great content is the key to success in today's digital landscape, and we're on a mission to make it easier for companies to create and publish that content," said Edis.
1SecondCopy is headquartered in Vancouver, British Columbia, and was founded in 2021 by Noah Edis and Nick Saraev. They've bootstrapped to just under $1M in ARR with no outside funding, and the founders project 20% month-over-month growth with the launch of their new platform.
Media Contact
Company Name: 1SecondCopy
Contact Person: Noah
Email: Send Email
Country: Canada
Website: 1secondcopy.com