Tanker Freight Rates Outlook Bullish As Trade Flows Change
Tanker Freight Rates Outlook Bullish As Trade Flows Change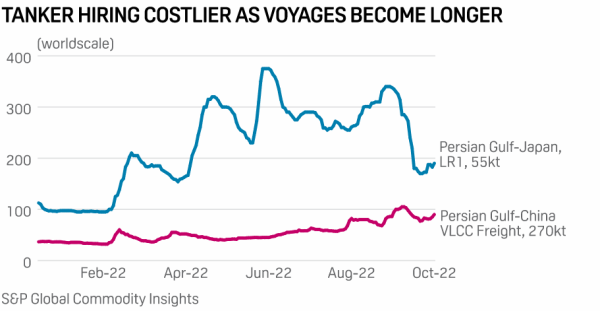 What's happening? With almost a million barrels of Russian oil moving long-haul to Asia every day, instead of short haul trips to Europe, tankers are being employed for a longer duration. Persian Gulf-China VLCC freight has more than doubled from the abysmally low levels at the start of the year. Owners are now earning more than $40,000/day.
What's next? The tanker freight outlook remains bullish due to the massive global oil trade disruption caused by the Ukraine war. While OPEC+ decided to cut oil production by 2 million b/d from next month, analysts consider the negative impact on shipping to be negative in the near-term as some of the member countries are unable to meet their quota targets. High gas prices are also resulting in a switchover to oil.
original source: https://www.win-road.com/news/tanker-freight-rates-outlook-bullish-as-trade-flows-change/
China's Excavator Sales Rebound In Sept, But Steel Demand Seen Weak
China's excavator sales rebounded in September from the previous month, but a sharp slowdown in property construction and COVID-19-related restrictions are expected to continue to drag on economic growth and steel demand.
Excavator sales are a key indicator of construction activity in the country, a critical sector to gage steel demand.
China's domestic excavator sales in September reached 10,520 units, rebounding 15.7% on the month but still 24.5% lower on the year, data from the China Construction Machinery Association showed Oct. 12. September sales were also the fourth lowest so far in 2022.
Domestic excavator sales fell 48.3% year on year to 119,990 units over January-September, easing slightly from the 49.9% year-on-year decline in the January-August period.
The improved excavator sales indicated China's fiscal stimulus aimed at the infrastructure sector had started showing its impact.
China issued a total of Yuan 3.519 trillion ($490.9 billion) in local government special bonds during January-August, leading a rise in infrastructure investment by 14.1% year on year in August, according to the latest data from the Ministry of Finance and the National Bureau of Statistics.
Infrastructure investments have risen for the fourth straight month and breached the 10% growth rate level for the first time since May 2018, according to the data.
The infrastructure sector is expected to witness high growth for the rest of 2022, as an infrastructure investment fund worth Yuan 600 billion was also spent during the July-September period, while another Yuan 500 billion of local government special bonds will be issued by the end of October.
However, higher infrastructure investments would be unable to offset the effect of China's debt-laden property sector and pandemic-led restrictions that are still weighing on the domestic steel demand, according to sources.
Some traders in eastern and southern China said active buying on the spot market in the last week of September were not sustained in October after the week-long holidays.
Amid sluggish demand, the Chinese domestic rebar prices fell to Yuan 4,165/mt Oct. 11 from Yuan 4,260/mt Sept. 30, according to data from S&P Global Commodity Insights.
"It's actually within market expectation that steel demand in October and the following months is unlikely to improve further from September because of the drag from [the] property debt crunch. But the COVID resurgence across the country after the holiday raises concerns that strengthened social restrictions may more or less hit steel demand again this month," a mill source said.
Some other market participants also said steel market sentiment remained low, given the outlook of consistent decline in demand for Chinese manufactured goods and sluggish domestic demand that might last into 2023 due to the COVID-19 restrictions.
original source: https://www.win-road.com/news/chinas-excavator-sales-rebound-in-sept-but-steel-demand-seen-weak/
Media Contact
Company Name: Win Road International Trading Co., Ltd.
Email: Send Email
Phone: +86-13821256534
Country: China
Website: https://www.win-road.com/