STARFETCH launches first AI-based Actively Managed Certificate (AMC)
A unique tool that utilizes cutting-edge technology to empower investors.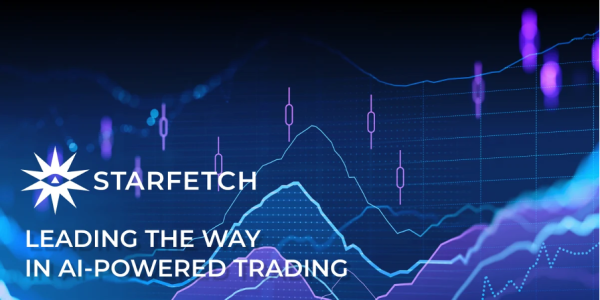 The Swiss fintech company STARFETCH launched its first artificial intelligence-based actively managed certificate, the STARFETCH AI AMC. It combines years of industry knowledge and experience of a highly professional team with the latest technological developments in AI, machine learning, and data analytics to get the most out of market opportunities.
STARFETCH is well known for its ai trading algorithms, which are used internationally by banks and asset management firms. STARFETCH employs the most advanced and up-to-date scientific methods to develop the best algorithms for maximizing returns. This includes a novel combination of quantitative finance, machine learning, and behavioral finance.
Challenging the status quo –
As the financial markets face insecurity, uncertainty, and distortion, the emergence of AI-based algorithms comes at an opportune time, as it is difficult to discern (meta) trends through manual paperwork and human(-only) strategies. Through sophisticated algo trading, STARFETCH AI AMC has the power to analyze a large amount of data at once. This helps the algorithms understand the short and long-term trends. At the same time, the trading decision taken by the algorithms is always real-time, which enables it to anticipate instantaneous opportunities as well.
STARFETCH AI AMC is actively operated and managed by a dedicated team of financial experts, physicists, mathematicians, and software engineers who have been working with major financial institutions. This system allows the AMC to adapt to changing market conditions and optimize its trading strategies. The best out of two worlds combined to promise the potential of high returns.
Opportunity for everyone: retail and institutional investors welcome –
STARFETCH believes that online trading should be within reach and accessible to every individual so that anyone with even a marginal knowledge of trading tools can earn a decent profit. The scope of service of STARFETCH AI AMC is not just limited to beginners. Still, it offers services for a wide range of investors, including individual retail investors and large institutional clients.
To start with STARFETCH AI AMC journey, visit: https://www.starfetch.ai
For more information, contact: Jon Baumann at [email protected]
About STARFETCH
STARFETCH INVESTMENT AG is a Switzerland-based fintech company that specializes in the research and development of artificial intelligence-based trading algorithms. We are dedicated to utilizing the most advanced scientific methods, including quantitative finance, machine learning, and behavioral finance, to create the most successful trading algorithms on the market. The STARFETCH AI AMC offers a novel and unique AI-based copy trading solution for global clients.
Media Contact
Company Name: STARFETCH INVESTMENT AGST
Contact Person: Jon Baumann
Email: Send Email
Phone: +41 41 790 33 31
City: Baar
Country: Switzerland
Website: www.starfetch.ai