Bob Gonzalez's "A Flicker in the Water" is selected for Mariel Hemingway's Book Club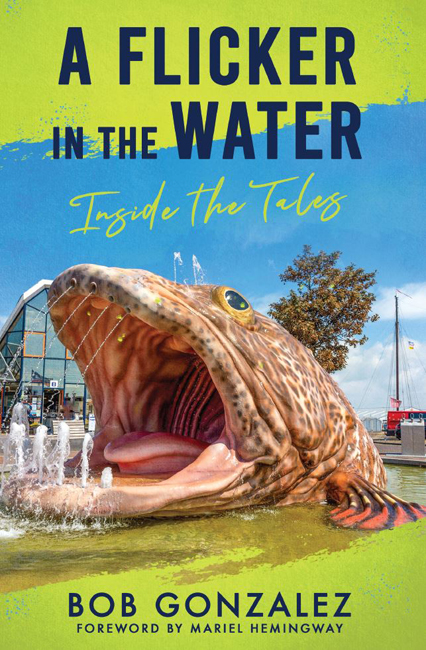 A thrilling collection of tales from the high seas, "A Flicker in the Water: Inside the Tales" by Bob Gonzalez has been selected for Mariel Hemingway's Book Club, a curated collection of excellent fiction and nonfiction that spans styles and genres. This most recent addition, "A Flicker in the Water" brings readers aboard a fishing vessel in the Gulf of Mexico, the Twister, for adventure-filled stories of chasing the ocean's biggest catches.
With an engaging mix of humor and drama, the author shows the heroism, skill, and sometimes dangerous challenges faced by ocean fishermen, while also educating readers about marine life and the sea itself.
Mariel Hemingway, Oscar nominated actress, bestselling author, and granddaughter of the legendary Ernest Hemingway, says, "Bravo to Bob Gonzalez for this poignant window into the world of deep sea and the extraordinary fish that call it home. A Flicker in the Water is a telling title to the stories that emerge from that flicker. I tip my hat to Bob Gonzalez, to my dad and my grandfather who also see/saw the flickers of the water as a symbol of the men they wanted to be, men who spoke the language of the water."
Providing a fascinating window into the lifestyle aboard a top fishing vessel, including major setbacks and massive successes, Gonzalez shares incredible stories that bring readers right into the action. Chasing blue marlin, swordfish, grouper, and beyond isn't for the faint of heart, and these tales show just what it takes to reel them in!
"A Flicker in the Water" is available through retailers worldwide, including Amazon and Barnes and Noble. Learn more at https://mindstirmedia.com/mariel-hemingway-book-club/
About the author:
Bob grew up in North Eastern Pennsylvania near the Pocono mountains. After moving to Florida he pursued his love of deep sea fishing which led to the creation of his 2nd book "A FLICKER IN THE WATER" (Inside the Tales). The book is reminiscent of The Old Man and the Sea. After coming close in 2020 making it to the 6th game of the World Series Bob hopes to someday soon see the Tampa Bay Rays win their 1st World Series championship.
Media Contact
Company Name: MindStir Media LLC
Contact Person: Jen McNabney
Email: Send Email
Phone: 800-767-0531
Address:1 New Hampshire Ave Suite 125
City: Portsmouth
State: NH
Country: United States
Website: https://mindstirmedia.com/