Sixteen cities in Texas proclaim August 18 as Never Give Up Day
Corpus Christi, TX – Cities in Texas join community members in celebrating Never Give Up Day on August 18th, 2023.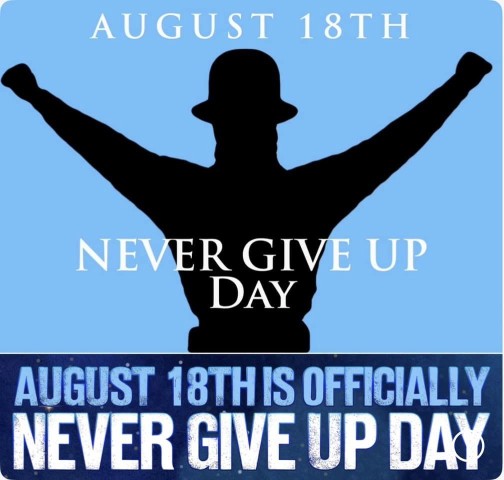 City Mayor of Austin, Irving, Corpus Christi, Killeen, Waco, Cibolo, Fate, San Marcos, Brownsville Wichita Falls, Friendswood, Sugarland, Hutto, Sachse, Lancaster, and Edinburg have proclaimed August 18, 2023, as Never Give Up Day.
"The Mayoral proclamations signal the city's role in recognizing the impressive resilience and determination of their communities," says Alain Horowitz, Global Director of Never Give Up Day.
August 18 is a global celebration day focused on cultivating a mindset of determination. More than 80 cities across the United States and Canada have already signed a proclamation for Never Give Up Day. "Never Give Up" is one of the most popular sayings which have motivated many people around the world to achieve greater heights and encourage many more to keep trying.
"Never Give Up Day is a great opportunity to present a distinguished award to those who have demonstrated a great act of determination," Alain says. "It's not a new ruse of marketing and it's not going to blow over and fade away, he adds, It's going to grow in popularity year after year."
If you've been going through some struggles in life, Never Give Up Day serves as motivation to push past whatever adversity you're experiencing.
Celebrating Never Give Up Day allows people the chance to feel like they've achieved something significant, in spite of their current situation, but just the fact that they are holding onto their goals or dreams and never giving up, has created value in the eyes of their family and friends.
"Never Give Up Day reminds us of the struggles we've endured, the triumphs we've savored, the unbroken threads that shape a person's life, just because we chose to never give up," Alain says.

Here is a list of cities across the US and Canada that recognize the importance of never giving up in life and proclaim August 18th, 2023, as Never Give Up Day.
USA: Sunnyvale (CA), Wenatchee (WA), Bossier City (LA), Lakeland (FL), Thornton (CO), Cibolo (TX), Deland (FL), Greenville (NC), Milwaukee (WI), Linden (NJ), Fate (TX), Tempe (AZ), Springfield (OR), San Marcos (TX), Brownsville (TX), Loveland (CO), Oakley (CA), Boulder (CO), Rocklin (CA), Kauai (HI), Wichita Falls (TX), Grand Rapids (MI), Vancouver (WA), Friendswood (TX) Surprise (AZ), Niagara Falls (NY), Perris (CA), Fayetteville (AR), Irving (TX), Warren (MI), Sugarland (TX), Corpus Christi (TX), Baltimore (MD), Memphis (TN), Las Cruces (NM), Berkeley Township (NJ), Kinston (NC), North Miami (FL), Toledo (OH), Manteca (CA), Hutto (TX), Glendora (CA), Laramie (WY), Austin (TX), Killeen (TX), Independence (MO), Montgomery (AL), Attleboro (MA), Mission Viejo (CA), Shawnee (KS), Milpitas (CA), Waco (TX), Sachse (TX), Shawnee (OK), Reno (NV), Dayton (OH), Naugatuck (CT), Lancaster (TX), Florissant (MO), North Las Vegas (NV), Daytona Beach (FL), Edinburg (TX), Titusville (FL)
Canada: Halifax (NS), Victoria (BC), Burlington (ON), Brampton (ON), Regina (SK), Niagara Falls (ON), Red Deer (AB), Saanich (BC)
Visit the website: http://www.nevergiveupday.com
Media Contact
Company Name: Never Give up day
Contact Person: Alain
Email: Send Email
Phone: (929)388 2146
City: New York
Country: United States
Website: www.nevergiveupday.com